We are excited to announce the following workshops and events to be hosted after the digital humanities conference. The content of these workshops and presentations complement the discussions and ideas presented during the conference.
We will be updating this page as workshops and events are scheduled. Please check back intermittently for new events and information.
Want to get more involved in DH at UBC? Check out the UBC Libraries research guide on Digital Humanities and sign up for our DH mailing list.
Open Scholarship in Practice
A week-long series of events hosted by UBC Library from November 2-6, 2020.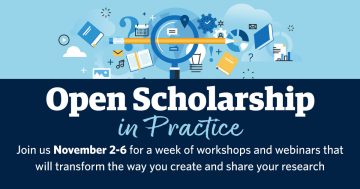 Presentations
Tuesday, November 3, 2020

Kathleen Fitzpatrick: "Working in Public: Generosity and the Knowledge Commons." [Register Here]

Wednesday, November 18, 2020

Laura Krueger: "Pixellating project showcase: interrogating the archive – narrative complexities in documentary filmmaking." [Register Here]
Workshops
Thursday, November 19, 2020